What To Look For When Choosing A Locksmith?
Whether you want a key replacement, get some locks repaired, or need assistance with your car lockout, LocksmithsPros is available for help!
When looking for a locksmith to deal with the security of your home, organization or your vehicle, find the one who is qualified and experienced. Unfortunately, all locksmiths are not as skilled and competent as they should be. Many of the locksmith companies are unfortunately not professional and not worth your time and money. So, before you make a call, make sure that you have done enough research on the company to avoid being scammed. To ensure that you are hiring the reputable locksmith, here are a few things to consider.   
Look For Locksmiths That Give Accurate Cost Estimates
Fraudulent locksmiths often quote low cost-estimate to their customers. After completing the job, they add surcharges and other fees to the quoted cost. A trustworthy locksmith will provide transparent affordable prices listed on their website, quote a fair and accurate cost estimate over the phone before sending out their team to your home, business or vehicle location for assistance. When the mobile locksmiths will reach your destination, they will quickly assess the amount of work needed to get the job done and will confirm the cost-estimate before starting the job so that you know how much you need to pay, for a cheap car key replacement for example.  
Hire Locksmiths With Authentic References
Always hire locksmith companies who are experienced, reputable and knowledgeable. You can conduct a quick search online to know their history and reputation among customers. Find the reviews and complaints that are featured at several websites and directories. You should also read reviews on social media to know what customers are saying about their services. This will give you an idea regarding the professionalism and behavior of the concerned locksmith with its clients. Alternatively, you can also ask your friends and family for locksmith recommendations if they have had a lock and key work done before by a local locksmith. If you are not able to get any recommendations, you can ask your local hardware store since they may be working with locksmiths and will be able to recommend a reliable and affordable locksmith.
Find their Response Time
Lock or key emergencies usually happen when you are running out of time or you are up for an emergency meeting. This is why you must hire emergency locksmith services only from locksmiths who operate all around the clock. Before calling a locksmith company, make sure you are confident about their response time so that you don't remain locked out of your home or car for a longer time. Also, find out if they have a mobile team that can reach you quickly and takes care of your needs. Qualified mobile locksmiths can cut a new key, repair a lock, program a fob or transponder key and do several other locksmithing tasks in their vans. The locksmith response time depends on numerous things such as their availability and the distance from their center to your destination. In general, reputable locksmiths have their teams located in multiple parts of each state so that they can reach you within 30 minutes.  Locksmith Pros is a nationwide network that supports all locations 24/7. 
Hire Locksmiths with License and Certifications
We suggest that you always hire only authorized locksmith that has been licensed and certified. Any reputable locksmith firm will have a team of certified locksmiths. Several states in the United States have made it mandatory for the locksmiths to be licensed. You can validate the license of a locksmith online or request it when they reach the site. You may need to check with 'The Associated Locksmiths of America' (ALOA) to learn about the trustworthy locksmiths in your neighborhood. The locksmith firms that have a certification from ALOA are not only knowledgeable but trustworthy and skilled as well. Don't hesitate to inquire about their business card, identification document or a license before you hire them. Some locksmith companies also ask for the identification of their customers to ensure they are working with the actual vehicle owners.
Search For Locksmiths With Experience And Qualification
Experience is an important factor that you must consider when looking for a locksmith.  An expert locksmith has years of experience and professional training. They are proficient enough to service your lock and key needs without causing any impairment. Therefore, a locksmith company that offers a wide range of services is always recommended.
The Locksmith You Hire Must Be Reliable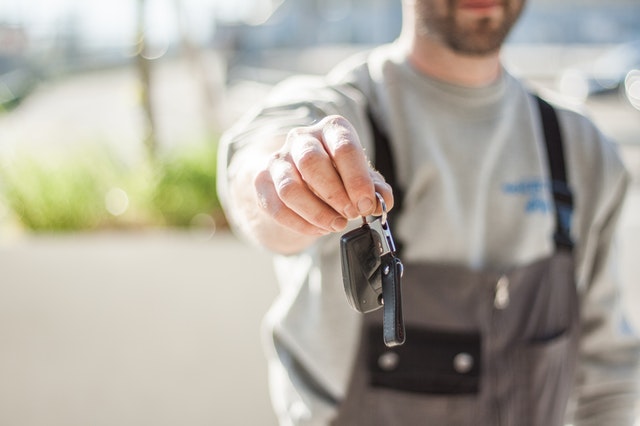 You must work with a locksmith from an authentic company. Remember, when you hire a locksmith, you are putting your trust in them with access to your vehicle, home, and office. They should come in a marked vehicle, wearing a proper uniform. You just cannot put your people and property in unsafe hands. Be safe, alert and vigilant.
Identify the Danger Signs When Looking For A Locksmith
Be cautious of locksmith companies that don't have a local office or are not nationwide. Inquire from the customer service call center about their address to make sure you are dealing with a local or nationwide company.
Take note of locksmiths if they arrive in an unmarked vehicle with no proper uniform. Check their credentials to confirm they are who they claim to be. If they fail to show you any identification document, it is suggested to look for other reputable locksmiths.
Always ask for a cost estimate when you call them up. If they don't offer an upfront price, don't hire them.
Get In Touch With One of Our 24-Hour Locksmiths!
Since there are several possible scams that are linked to locksmith companies, finding a certified one will offer you safety and peace of mind.
Locksmith Pros is a certified, reputable and reliable company with a team who is always ready to assist their customers. Call us today for more information!