Locked Out of Your Car?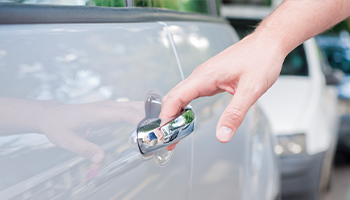 Are you locked out of car, looking for an emergency car lockout service near me? Call Locksmiths Pros! We can arrive in under 30 minutes and handle any jammed car locks, broken or lost keys, lock malfunction, keys jammed in ignition, or car trunk lockout problem - on the spot! We offer 24/7 mobile roadside assistance throughout the nation.
What's a Car Lockout and How Does It Happen?
Car lockout incidents happen when you are not able to enter your vehicle because something is preventing you from unlocking the door. Car lockouts can occur for a number of reasons: 
Locked keys in car. You accidentally left the keys in the ignition before locking the doors.
Lost, missing, or stolen car keys. Car keys can go missing for a number of reasons, from accidental misplacement to a case of theft. 
Broken car keys. The key fob batteries are dead, the chip inside the key is damaged, or the key is bent, snapped, or broken in half.
The door lock is broken. This usually occurs with older vehicles from regular wear-and-tear, or faulty security alarms on modern cars.  
What to Do When Locked Out of My Car?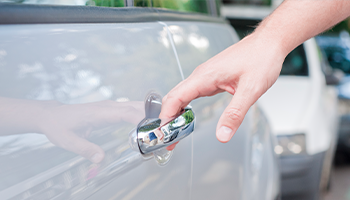 Step 1 - Keep Calm
Remain collected and try to avoid any unnecessary panic. There are simple, quick, safe, and effective ways to fix the problem. 
Step 2 - Check the Car
Make sure that there are no elder passengers, pets or children stranded inside the locked car. In the summer, car lockouts are associated with the risk of overheating and heatstrokes. In the winter, there is a high risk of hypothermia. 
Step 3 - Stay Safe
Staying safe during a car lockout is critical. If you are stranded on the side of the road in a remote location, look for a safe spot for shelter and protect yourself against imminent danger.
Step 4 - Find the Nearest Phone 
Borrow a phone from someone if yours is locked in. If there are small children or vulnerable persons locked in, call 911. They will immediately send over a team to break into your car and avoid a tragedy. If there is no immediate underlying danger to worry about, call someone who has a spare key to your car. 
Step 5 - Call an Emergency Car Lockout Service
If you do not have any spare key to use, give our car unlock service a call. We will immediately dispatch the nearest mobile car unlock crew in your area. They will arrive in just a few minutes and use professional lock picking tools or jammed key removal kits to safely restore access to your vehicle.
What Not to Do  When Locked Out of My Car? 
Do not panic!
Undue stress will only add to the problem and impair your ability to use your logic and common sense. 
Do not try to break a window!
Some people might try to desperately get access to their car via their windows using rocks or pointy objects. The risk of injury is high and the added repair costs are not worth it. 
Do not use any improvised tools!
Using potentially dangerous tools to pick your locks and access your vehicle, will, more often than not, lead to further problems. In our experience, it is not worth trying to unlock the car on your own with the wrong tools. When used inappropriately, coat hangers, bobby pins, or slim jims could lead to further lock problems. What's the worst that could happen? You could damage the door, window, car paint, and lock mechanism, and end up with a lot of additional expenses besides the car lockout problem itself. Plus, most of today's cars are equipped with advanced lock systems. This means any attempt to enter the car without the right key will most likely result in the alarm setting off.
What Solutions Can a Car Locksmith Provide?
No matter what make and model of a vehicle you might own, we have the right tools and methods to unlock your car on the spot in case of emergency:
We use jammed key removal tools to free the locks on the spot.
Our advanced lock picking toolsets enable us to instantly unlock any door. 
We can fix or replace broken key fob chips on the spot.
We offer spare key cutting solutions.
We install new car locks at affordable prices.
Car Lock Rekeying
We offer car lock rekeying solutions for vehicles that use standard keys, transponder keys, laser-cut keys, switchblade, or smart proximity keys. After rekeying, the old keys will be rendered useless. 
Car Trunk Lockout Solutions
Any attempt to pick a trunk lock will result in the security system completely locking down the car, as a break-in attempt is signaled We always unlock the front cabin of a car and access the locked trunk from within the car.
How Much Does It Cost to Get You Back Into Your Car?
On average, we charge a $25 car lockout rate and an additional $19 service call fee. If you also need a spare key done, locks rekeyed or a new lock installed after the lockout, the additional services will be charged extra.
Are Smart Car Lock Systems Expensive to Repair?
Usually, the cost of repairing smart car lock systems is higher compared to standard vehicles. The cost of reprogramming or replacing a key to a smart car ranges between $220 and $500+ on luxury models.
Tips to Prevent Car Lockouts
Always have a spare key on you or at the house.
Never leave the key in the ignition when you need to briefly get out of the car.
Never leave the keys down inside the car. Immediately place them in your hand, pockets, or purse. 
Be diligent with your car lock maintenance.
Immediately fix any jammed lock or key problem.
Periodically check and replace the key fob batteries.   
Is a Car Dealership a Good Option When Locked Out of My Car?
Whenever possible, we strongly advise against calling a car dealership when locked out of your car. Not only do our car locksmiths offer cheap car locksmith near me rates that are much lower than local car dealerships, but they also offer something car dealerships do not have: professional lock picking tools. Plus, car dealerships are not equipped to lockouts in a timely manner. Locksmiths Pros can reach you in under 30 minutes, no matter what time of day it is, and get you back behind the wheel in no time. Our technicians carry their tools with them, so there is no need for you to pay for a costly tow truck ride. Dealers and mechanics typically work 9-5, and they are off during the holidays and weekends. We are truly a 24/7 mobile locksmith company ready whenever you need us.
What to Do If Your Keys Are Locked in the Ignition?
Pick up the phone and give us a call. We will immediately send over a car lockout assistance near me mobile crew that will reach you in under 30 minutes to restore your access to your car in the safest way possible..   
For any car lockout emergency, call Locksmiths Pros! We can get you back behind the wheel in no time at affordable car lockout prices!
Slim Jims
A slim jim is a long piece of flattened metal with a handle on the top end. While this might be a tool you may have seen in the movies, in reality, this tool takes a lot of skill to use successfully.
Wedges
Our car locksmiths use the wedge to make a gap between the car door and the car door frame. We can then reach into the car and gain access the car door lock from inside the vehicle.
Probes
This is the long, thin tool that we use in order to access the interior door locks. Our expert auto locksmith will decide when a probe is best used or avoided in your car.
Auto lockpicks
Using auto lock pick is tricky and time-consuming. It is not usually the first tool a locksmith will choose to use when unlocking your car door. It is required at times, which is why we carry it around with us at all times.
Auto Jigglers
We use auto jigglers, or tryout keys when dealing with older model vehicles. These look like toy keys because of their unusual shapes. We try to fit the right key in the car lock in order to unlock it.
CAR KEY REPLACEMENT FAQS
When you open my car lock, will there be lasting damage?
No. We use damage-free, non-intrusive car unlock solutions and tools that allow us to open and repair almost any type of lock on the spot.
Are your car lockout services available in my area?
Yes. We are located nationwide and we cover the entire United States, coast to coast.
I'm locked out of my car, how long will it take you to get here?
We can reach any address within half an hour or less, depending on traffic and weather conditions.
How long will it take you to unlock car door?
With the right tools and techniques, we can unlock standard car doors within a few minutes.
Can a car locksmith unlock any type of car?
Locksmith Pros can unlock all types of vehicles. We have the right training and expertise needed to take car lockout emergencies for all makes and models.
Are some cars more difficult to unlock than others?
Yes, there are makes and models of vehicles that are harder to unlock than others. Smart cars or vehicles with specialty security systems may take longer to unlock.
How do you open a car door with a bobby pin?
Opening a car door with a bobby pin is not recommended by the locksmiths at Locksmith Pros as it could result in damage to the lock.
What tools do your locksmiths use to unlock cars?
Our mobile car lockout experts are fully stocked with a myriad of tools used for unlocking our clients' cars. Some of our most commonly used tools include wedge tools, auto tension tools, long-reach tool accessories, lock picking tools for all types of locks, gas cap tools, and others.